Had the good fortune to see August: Osage County at the Ahmanson Theatre in Los Angeles over the weekend. The play won both the 2008 Pulitzer Prize as well as the Tony Award for Best Play. And I have to say: it's wonderful.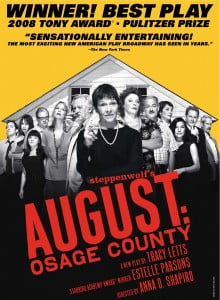 Featuring some of the best writing I've seen on stage or screen, wonderful acting, intense drama, and laugh-out-loud comedy, August: Osage County is amazing. It's a dysfunctional family reunion taken to an extreme, with tenacious characters who can't love without hating. And I can't recommend the play enough.
If you're in LA, catch one of the last tour dates this week (through October 18). Or check the show's site to see if the play comes your way soon.