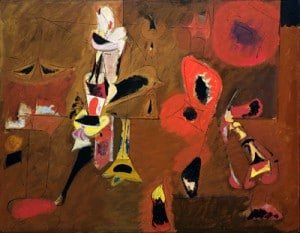 For those of you in LA/visiting LA soon, I highly recommend checking out the Arshile Gorky retrospective at MOCA (the Los Angeles Museum of Contemporary Art).
The museum has put together a great collection of beautiful and compelling pieces. Until I visited, I'd only been roughly familiar with Gorky's work–the color, the amorphous shapes, and haziness of form. But up close, there's a depth to the paintings that you don't appreciate from books and lithographs. The paintings are worth a trip to MOCA. Plus, you can check out many of MOCA's pieces from their permanent collection which are on indefinite exhibition!
The Gorky retrospective exhibition runs through September 20th.
(FYI: Thursdays evenings from 5-8pm admission is free at MOCA!)
>> Link: Arshile Gorky: A Retrospective – MOCA